High-speed, Overlock / Safety Stitch Machine
The M1- Series responds to various kinds of sewing materials and processes, producing delicate and beautiful soft-to-the-touch seams while further reducing operating noise as well as increasing durability.
This advanced overlock / safety stitch machine is easier to use and promises superior cost-effectiveness. Responsiveness from light- to heavy-weight materials with a lower applied tension.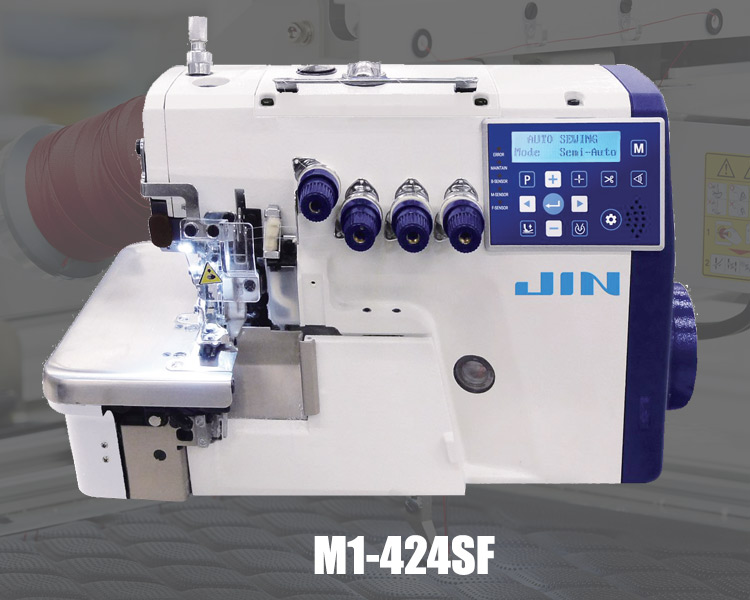 What Makes Us Different
The maximum sewing speed of the M1 series is 7,000sti/min.
The M1-SF type sewing machine is equipped with a 3-point sensor auto thread trimmer. This prevents the operator from accidentally cutting the cloth
You Should Know
• The direct drive system has been adopted.
• Both the control box and the operation panel are integrated with the machine head.
• Chain-off thread suction device (Blower fan motor type) : JINBFX5DXFZZ
• Chain-off thread suction device (Pneumatic type) : JINBF889UT-DCFZJ-1
Model name
M1-304NS
M1-304SF
M1-424NS
M1-424SF
M1-535NS
M1-535SF
Stitch type
1-needle overlock
2-needle overlock
Safety stitching
Max. sewing speed
7,000 sti/min􀋎
Stitch length
3.8 mm
Needle guage (mm)
-
2.0
3.0
Overedging width (mm)
4.0
5.0
Needle bar stroke
23.0 mm
Needle
DCX27 #11
DCX27 #14
Max.lift
of the presser foot
5.0 mm
Sensor control /
Tape cutter / Auto-lifter
-
provided
-
provided
-
provided