Smart factory concept is to support customers to attain maximum production & consistent quality.

This is for the one who is facing ,
1 Production delay

2 Absence of Skilled manpower.

3 More defective products or more rework

4 More operating cost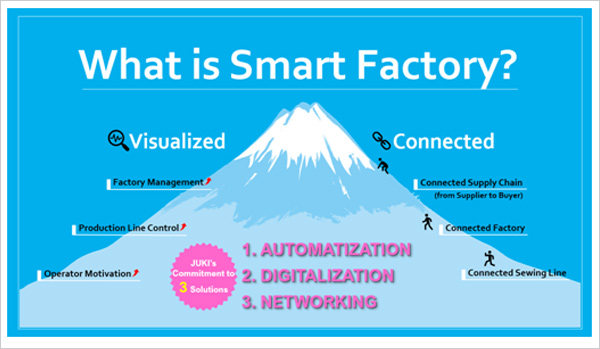 JUKI aims to support our customers in realizing their Smart Factory, therefore we have been evolving our technologies in the fields of Automatization, Digitalization, and Networking.
Smart factory proposal or concept is been prepared keeping customer's need of todays competition in apparel manufacturing in terms of production , quality and delivery . We can help customers to set up a world class factory with all modern automatic and digital machines with Smart IOT system to monitor production in realm time basis . This concept is widely appreciated by many apparel manufactures in the world.

And we have been joined with some of the biggest apparel makers in India to set up a world class smart factory .

The following are the evolution of these concept in over period of time .